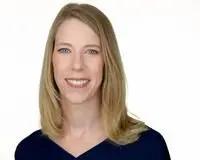 Ginger Paskowitz is a licensed clinical social worker specializing in individual pyschotherapy with adult clients and couples, and maintains a private practice in the Katy / Cinco Ranch area.
With over 7 years experience as a psychotherapist, and as a graduate of Smith College School for Social Work she is currently serving as private practitioner working with a broad spectrum of adults and couples. Prior to private practice, Ginger worked at the Menninger Clinic in Houston, Texas.  Menninger is an inpatient psychiatric hospital specializing in long term psychiatric care for those suffering from major mental illnesses.  As such, she has extensive experience working with a multitute of disorders and a wide variety of clients.
Ginger Paskowitz is a psychodynamic, strengths based therapist. Her therapeutic approach is to provide support and practical feedback to help clients effectively address personal life challenges. She integrates complementary methodologies and techniques to offer a highly personalized approach tailored to each client. With compassion and understanding, she works with each individual to help them build on their strengths and attain the personal growth they are committed to accomplishing.
Education
Masters degree from Smith College School for Social Work (2005)
Undergraduate degree from Southwestern University (2002)
License
Clinical Social Work, Texas 41262
Additional Training
Ginger has over 30 hours of specialized training in the Gottman Method of Couples Therapy from The Gottman Institute.  She has learned many hand-on tools for helping couples to manage conflicts and build a stronger foundation in their relationship.
Ginger has also completed training in theories presented by Dr. Brené Brown on shame, vulnerability, and resiliency.  She uses those theories in her work to help her clients understand the role that shame plays in their lives.
Professional Activities and Memberships
Ginger is a member of NASW, NASW Texas, Houston Group Psychotherapy Society, and the Center for Psychoanalytic Studies in Houston.